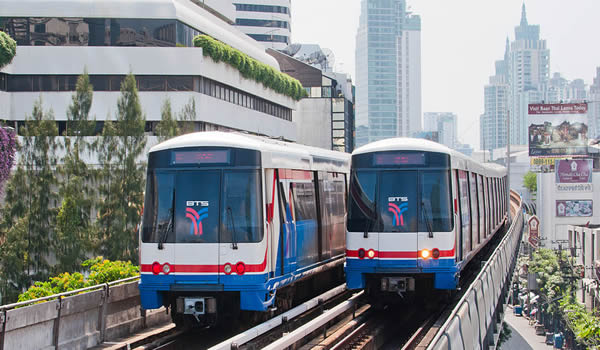 Similar to your country, Western countries and developed Asian Countries, we are next step developing country, so innovations and civilizations are glowing up from GDP's. BTS Sky Trains have 2 lines
(see map)
--the first is starting from the North Eastern-Northern Bus Terminal (Mo Chit (N8), Chatuchak Weekend Market) to Kheha (E23) off Samut Prakarn province
(Sukhumvit Road)
; Visitors can get off this Kheha station (E23) in order to travel Crocodile Farm and Zoo, and the other line is starting from the National Stadium (W1)
(Siam Square area, MBK)
passing
Silom Road
, Sathorn Road, to last station, Bang Wa Station (S12) located at Thonburi district. This line conveys passengers crossing the Chao Phraya River. Fare begins 16 and not over 60 Baht
(Check Prices)
. The service is available from 06:00 a.m. to 12:00 p.m. Travel assistance calls 0-2617-6000, 0-2617-7341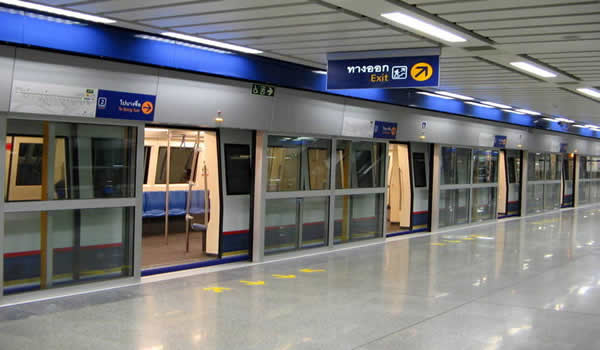 The second type of mass rapid transportation in Bangkok is Subway or Underground. The subway's route is beginning from
(see map)
Tao Poon, Bang Sue
Railway Station
, Bangkok
Railway Station (Hua Lamphong)
till Lak Song Station in Bang Khae district (Hua Lamphong Station - Lak Song Station open September 2019)
See Map
. The second line connecting Subway or Underground between Tao Poon Station and Tha Phra Station is Blue line (Tao Poon Station - Tha Phra Station open March 2020)
See Map
. The first line passes many shopping areas like
The Weekend Market
at
Chatuchak Park Station
, important business buildings like
Sukhumvit Road (Sukhumvit Station)
and
Silom Road (Silom Station)
. Visitors to Thailand would like to travel the Grand Palace and take photograhp Wat Prakaew or Wat Pho, should get off at Sanam Chai Station and walk upward just 5 minutes to impress them (Future station).
See Map
. Fare is between 16 and 42 not over 50 Baht
(Check Prices)
according to your destination. By the way, we are excluded the MRT Purple Line (Taopoon Station-Kholng Bangphai Station)
See Map
and
Check the fare
again. Customer Relation Center: 0-2624-5200 or Customer service can assist 0-2354-2000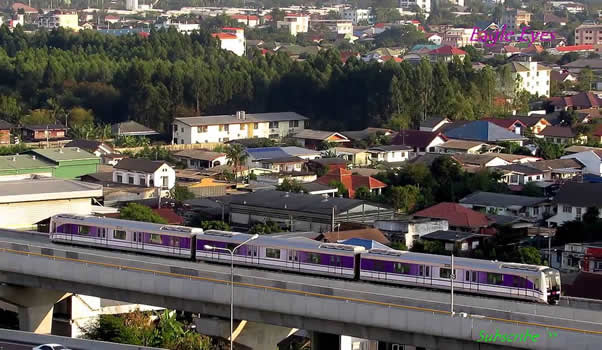 Courtey picture
WWC112 WWc112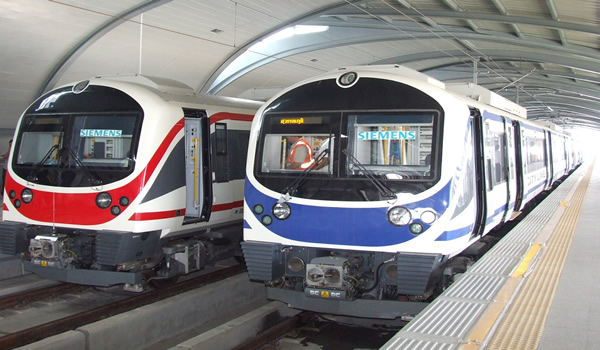 The youngest sister transmit in Bangkok, Thailand is Suvarnabhumi Airport Rail Link. The State Railway of Thailand has been operated a transit construction projects. The Suvarnabhumi Airport Rail Link and East line transmit system in the city
(see map)
for aircraft passengers and dwellers who live in the eastern part of Bangkok, which connect the route between Suvarnabhumi Airport to the metropolis, Bangkok. Along the
Eastern Railway line
by using the high-speed air-conditioned trains in upon two-way parallel type. They provide services and additional advantage as follows.
1) Suvarnabhumi Airport express train (SA Express):
Providing for passengers with high-speed air-conditioned trains with 4 bogies that one of them is a container for transporting goods. It run direct between Makkasan/Asoke to Suvarnabhumi Stations. Time within 15 minutes. Fare is 150 Baht per trip. It provides service from 06.00 to 24.00 everyday. (Check Price)
2) Suvarnabhumi Airport City Line (SA City Line):
Providing passengers and dwellers launching from the first station (See Map) at Phyathai and then Ratchaprarop, Makkasan, Ramkhamhaeng, Huamak, Ban Thab Chang, Lat Krabang and the last Suvarnabhubi International Airport Stations respectively. Which passes all 8 stations through the final destination, Suvarnabhumi Airport Station within 30 minutes. It covers a distance of 28 kilometers. Ticket begins 15 not over 45 Baht per one way. It provides service from 06.00 to 24.00 everyday. (Check Price)
3) Baggage Check In: Passengers and travellers are able to check in* and load all luggages in Makkasan Station. For more inquiry call 1690 (24 hours) or +66 2308 6500 ext. 2906, 2907


*Only passengers of Thai Airways International Airline before take-off 3-12 hrs.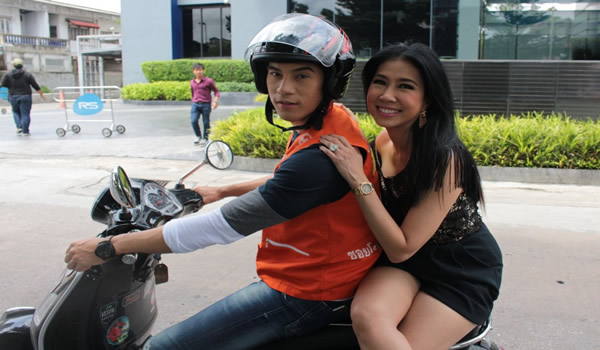 Courtesy picture
tv.mthai.com
Thais call "WIN" (Thai wording: translates from English--"be the winner in contest or competition~") for those whose drivers turn on serviced motorbike' engines reaching wherever is. As we've mentioned above, as the meaning of word "WIN", the motor bikers are worried about their time to speed and reached the destination by competition with others, so they are not mind though you will always remind them that you are driving so fast!!. The last answer of Thais, mostly don't mind about their safe, they're so worried about the time hanging with traffic ways. It's the alternatively decision for you as we've been proud to attention before choosing. Trying, it's amazing.
It's time for you to choose that vehicles are suitable and worth for your destination. Think before making an appointment that Bangkok's one of the traffic jam city. Planning your journey better than wasting your time on the road or loosing your mind in the city.