Text Size
+ Larger
|
+ Smaller
SHOPPING DISTRICTS IN BANGKOK
Bangkok's strategic location makes it one of the worlds major crossroads and the most important air traffic hub in Southeast Asia. This "Land Of Thousands of Smiles" is not only richly steeped in history and culture but it has a maintained reputation throughout the world that makes its name synonymous with fine shopping as well. From world famous "Thai Silk" to handicrafts, "The City of Angels" is in the true sense of the world, a veritable shoppers paradise.
Thailand is a leading tourist centre in Southeast Asia.
Bargaining is an art well established in Thailand and is applicable in most all shops, the exception being, fixed price department store. So, when shopping around the best deals in town use your bargaining power. There are several clearly defined shopping areas in the city you should investigate.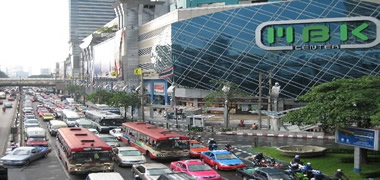 This compact shopping complex consists of restaurant, coffee shops, bakeries, brand-named clothes, textiles shops, and modernized movie theatres. Thai Silk and Handicrafts shops are found here in abundance. The MBK (Maboonkrong Department Store is crowed by Bangkokian teenagers), Siam Paragon (the Prestigious world's Shopping Department Store, Siam Centre (the latest of young generation needs full of hall), Siam Discovery (The connecting building shopping mall of Siam Center--holding more than 200 shops showing leading in and out fashion brands). The famous shopping centres are located in this area as well. Siam Square is a shopping and entertainment areas in Bangkok, Thailand. Within Siam Square itself, there is a wide range of shops and services, including tutorial schools, (cause it near the most famous university, Chulalongkorn University), restaurants, cafes, designer clothing boutiques, record stores, bookshops, Hard Rock Cafe' and many banks. The customers vary from young-aged school and college students to office workers and foreign tourists. It is sometimes referred to as the "Shinjuku of Thailand". The central area of Siam Square is an open area named Centre Point, which normally hosts activities or special events every weekend.
---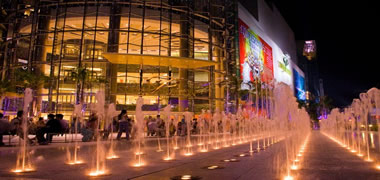 » See BTS (SKY TRAIN MAP)
» Check BTS PRICE
This is said to be the largest shopping district in the city. Here you can find at least 10 of the biggest Department Store. Bangkok has to offer several shopping arcades, countless smaller shops and 15 or so cinema theatres comprise the area. Pratunam Market, Baiyok Building 1&2, Pratunam Centre, The Platinum which site along both sides of the street. Here is fully displayed with cheap ready made garments but export quality ones for you to select, locating in this area alike. Though not of the western standards, it's a place well worth to visit for enlightenment into the very day life of the ordinary Thais. Another spot of interesting nearby is the computer centre of both Software and Hardware, Pantip Plaza, the centre of all office equipments. Many big department stores can be reached on foot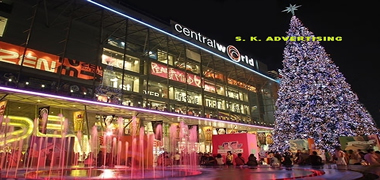 in this area as it is not too far away, such as The Central World Plaza or ex-Thai Duty Free Shops on the 7th floor of them and on the opposite side are Gaysorn Plaza, Prada- Louis Vuitton(the largest store in Asia)- Gucci- Armani and so much more hi-end prestigious brand names are housing in this building, Central Department Store--Chidlom (the leading department store for the elite in Thailand), Big C Countless Department Store and Erawan Plaza where you can find imported goods of very famous brands on sales here. Soi Langsuan, off Ploenchit Rd. is home for some Bangkokians' finer western restaurants.
Please pay more attention. Visitors To Thailand is not responsible for any error of other websites or third party; moreover, the mistake of accommodation telephone numbers.