Welcome you to Thailand, the amazing land plenty of Smiles & Thai cultures.
Self Journey (Koh Chang)
---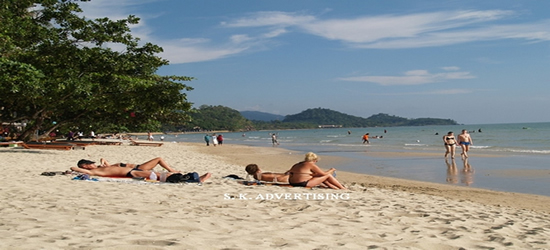 Koh Chang is 315 kilometers away from Bangkok in the Province of Trat, the easternmost of Thailand. There are several ways of getting there: by air,
by air-conditioned buses,
by taxi services and private car.
By Air: Bangkok Airways flies from Bangkok, Phuket and Koh Samui to a new airport at Trat. Airport is located on the mainland near Leam Ngob. There are flights depart from Bangkok daily which takes about 45 minutes, costing do not over 5,000.- Baht for round trip.

FLIGHT
DEPART
ARRIVAL
DAYS
BANGKOK (SUVARNABHUMI) - TRAT
PG301
0900
1005
DAILY
PG303
1100
1205
DAILY
PG305
1445
1550
DAILY
TRAT - BANGKOK (SUVARNABHUMI)
PG302
1035
1130
DAILY
PG304
1235
1330
DAILY
PG306
1620
1715
DAILY

By Bus: First/Second class and VIP air-con buses leave from the Eastern Bus Terminal at Ekkamai, on Sukhumvit Rd. which is very conveniently serviced by BTS Sky train (get off at Ekkamai Station) and another Northern Bus Terminal (Called "Mochit 2", located on Kampaengpetch Rd, near Chatuchak Weekend Market), Visitors to Thailand can reach there easily by MRTA Subway--get off at Kamphaeng Phet Staion, will take passengers to Trat Bus Terminal. Fares are ranging from 188++ Baht for second class buses to 250++ Baht for VIP buses.

THE TRANSPORT CO., LTD.
1st CLASS AIR CONDITIONED BUS (40 SEATS)
ROUTE
FARE
DISTANCE/KM.
HOURS
DEPART TIME
Bangkok (Ekkamai)- Leam Ngob (Trat)
250
331
05:15
07:45, 09.45
Leam Ngob (Trat)-Bangkok (Ekkamai)
250
331
05:15
14:00, 16:00
2nd CLASS AIR CONDITIONED BUS (47 SEATS)
Bangkok (Ekkamai)-Trat
225
387
06:30
04:00, 08:45
Trat-Bangkok (Ekkamai)
225
387
06:30
09:30, 12:00
FAN BUS
Bangkok (Ekkamai)-Trat
188
317
05:30
07:00, 09;00, 11:00, 12:30, 16:00, 17:00, 24:00
Trat-Bangkok (Ekkamai)
188
317
05:30
06:30, 08:30, 10:30, 13:30, 16:00, 17:30, 24:00

Note: Times and Prices are subject to be changed without prior notice.

By Rail: There is no direct train to Koh Chang-Trat province; However, for those who prefer a classic trip traveling by train, Pattaya Train Station is the nearest station to reach Trat province. For more information call Hua Lamphong (Bangkok's Railway Station) tel:0-2223-7010, 0-2223-7020, or 1690 for more details; otherwise, See SRT Route, See SRT Map and Station of SRT in Eastern Line. Visitors to Thailand should pay more attention that we abbreviated State Railway of Thailand to SRT.
Another services: Continue reading »
| | | |
| --- | --- | --- |
| | | |
We wish you enjoying pleasant and amazing travelling in Thailand.

---
Subcribe to Our news letter to latest news and offers
Visitors to Thailand Group
Visitors To Thailand presents you the amazing land plenty of friendly smiles and much more Thai cultures.
Top