Text Size
+ Larger
|
+ Smaller
OUT & ABOUT IN BANGKOK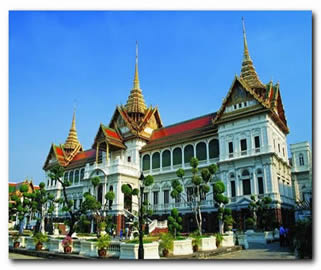 Grand Palace & Wat Pra Kaew (Temple of the Emerald Buddha Image)
The palace is situated within the same compound walls in the heart of the city, these two venues are the most frequently by foreigner travelers and native resident alike. The Grand Palace, besides being famous for the uniquely impressive buildings its comprises, is also the site chosen by the first monarch of the Chakri Dynasty, King Rama I (1782-1809), to build his residence. Just outside the Wat Pra Kaew complex is the most beautiful and important temple in Thailand. Here the visitors can view, carved from a single block of jasper, the highly revered Buddha Image of Pra Kaew Morakot. Open daily from 8.30 a.m. to 11.30 a.m. and from 1.00 p.m. till 3.30 p.m.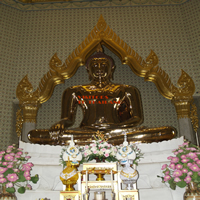 Wat Trimitr
This temple is sanctuary for the world's largest golden Buddha image, five tonnes of weigh and three metres high, which is presumable 700-800 years old. open daily from 9a.m. to 5 p.m.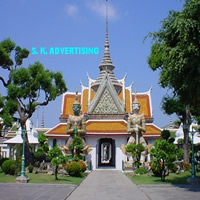 Wat Arun (The Temple of Dawn)
This temple is noted that its prangs (pagodas) which are decorated with Chinese porcelain. The middle of Prang is at a height equivalent to 20 storeys building and is the tallest of its kind in Thailand.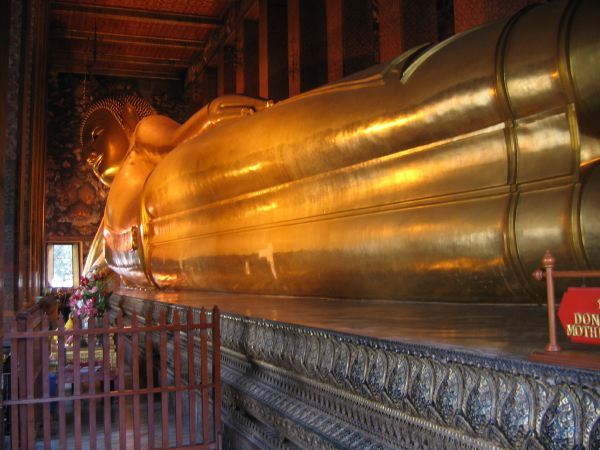 Wat Po (the temple of Reclining Buddha)
A 16th century of age, it's the oldest, largest and has the most pagodas (71) of any monastery in the city. This temple was the first open university in Thailand. Wat Po is known for its giant reclining Buddha, 46 metres (151 feet) long and 15 metres (49 feet) high.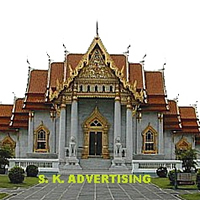 Wat Benchamabophit (the temple of Marble)
The temple was built during the reign of King Rama V (King Chulalongkorn 1868-1910). Mainly built with materials from several countries, it's one of the most modern examples of Thai religious architecture. Called "the Marble temple" because its main chapel is constructed in white Carrara Italian marble, this temple is housed a replica of what many considers to be the finest Buddha image ever made in Thailand, Pra Phutthachinnarat Phitsanulok.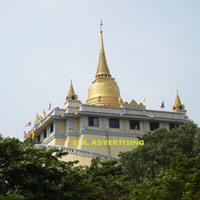 Wat Saket (the Temple of Golden Mount)
We are also known as the Golden Mount temple (Wat Phu Khao Thong), this temple was built during the reign of King Rama I but completed in King Rama V and houses relics of Lord Buddha. To reach the top of the man-made hill on which the pagoda housing the relics is located, you have to climb 318 steps. But the arduous trip is worth because once you reach the top, you'll have a panoramic view of Bangkok.
Please pay more attention. Visitors To Thailand is not responsible for any error of other websites or third party; moreover, the mistake of accommodation telephone numbers.