Text Size
+ Larger
|
+ Smaller
KOH LANTA (LANTA ISLANDS)

Khlong Khong Beach: Khlong Khong beach offers extremely peaceful and serene atmosphere. With its small size, the sand is limited; however, there are plenty of coral reefs offshore providing an excellent opportunity for diving.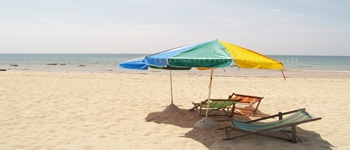 Khlong Nin Beach: Khlong Nin beach offers tranquil and peaceful atmosphere; its sand is so white and fine. It is a place for you who need a real secluded and relaxing paradise.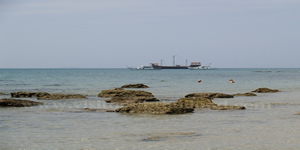 Khlong Hin Beach: Khlong Hin Beach is a rocky beach which is unsuitable for swimming. Actually, maybe some foreigners dare to play in the ocean when the sea wave being calm. On the other hand, Khlong Hin Beach is dedicated to distinctive point for watching the sun setting. It is very impressive when the sun is slowly fade away from horizontal scene. However, Thai seas are so safety and funny though the beaches is sandy or rocky.
Ba Kantiang Beach: Ba Kantiang beach is one of the most beautiful beaches of the island. The sparkling sand and iridescent aquamarine water will retain you for long time that you will never want to go anywhere else. There are excellent corals for snorkeling as well.

Khlong Jark Beach: This is the southernmost beach on Lanta. Despite its average beauty by most standards, the beach offers its solitude and tranquility, making it a good place to stay. The nearby deserted beach like Mai Pai (Bamboo) and the National Park are also the good secluded places. You can go to waterfall in the surrounding area by elephant trekking or self hiking.

Khao Mai Kaew Cave: A couple of caves are located in the center of the island, offering a wonder of rocks and caverns and housing the spectacular stalactites and stalagmites. Some sections in the cave create a cavern pool that you can swim in. To explore the cave, a guide is needed; a Muslim family who lives near the trail head to the cave offers guide service for your desire. The cave is located of the lower of two cross-island roads, down a narrow 1.5 kilometers-dirt path through the rubber plantation that ends up at the Muslim home.
Please pay more attention. Visitors To Thailand is not responsible for any error of other websites or third party; moreover, the mistake of accommodation telephone numbers.