Prachuap Khiri Khan...
IN HISTORY
Courtesy picture of www.fisheries.go.th
Prachuap was named "Muang Bang Nang Rom" or "Muang Narang". During the Rattanakosin era, in the reign of King Rama II, a new city was established at Bang Nang Rom canal and was named Muang Bang Nang Rom. Later the town was moved to Muang Kui, when the king Rama IV ascended to the throne, the name was changed to "Prachuap Khiri Khan". During the king Rama V, town grew, encompassing Amphur Muang, Pranburi and Kamnerd Nopbhakhun and was renamed "Muang Pranburi" and was situated at the bay of Prachuap Khiri Khan. In the reign of King Rama VI, he had changed the name back to Prachuap Khiri Khan and the provincial capital was established at Prachuap Bay and has been remaining here until present day.
Prachuap Khiri Khan...
Now a Day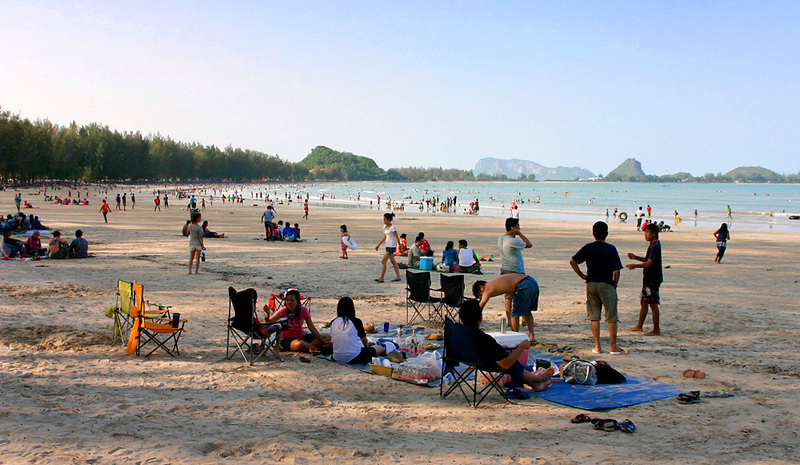 Courtesy picture of www.thailandoffroad.com
Prachuap Khiri Khan town is located 289 kilometers south of Bangkok. It borders Petchaburi to the north, Chumpon to the south, the east side is bordered by the Gulf of Thailand and the west is the Socialist Republic of Myanmar. The coastline is 224.80 kilometers long. Tambol Klong Wan (Klong Wan sub district) is the narrowest part of Thailand. Just 12 kilometers wide between Myanmar and the sea. The province has beaches, islands, canals, mountains, caves and waterfalls and then it is no wonder that Prachuap Khiri Khan is the paradise of tourists. The total area of Prachuap Khiri Khan is 6,357.62 square kilometers, divided into 8 Amphur or districts. These are
Hua Hin,
Pranburi,
Sam Roi Yod,
Kui Buri,
Muang (provincial administrative house),
Thab Sa Kae,
Bang Sa Phan
and
Bang Sa Phan Noi
. Khao Lak Island in Prachuap bay is and Official measures the sea level of the country. The major industries of the province are agricultural, fishery, Dairy farming and tourism.
---
We wish you enjoying pleasant and amazing travelling in Thailand.