Text Size
+ Larger
|
+ Smaller
PHUKET ISLAND
The Beautiful Pearl of The Andaman Sea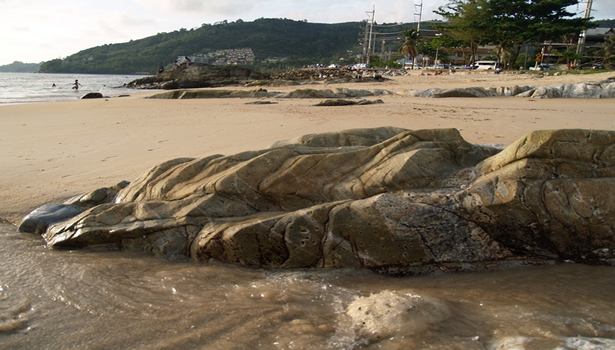 Kalim Beach is a small rocky beach and has rock and reef formations. Although the beach is adjacent to the famous Patong beach; beach area have not been developed much. Seaside restaurants and accommodations are available along the beach road. We are recommended you to SOMTUM YUM PAO CAFE & RESTAURANT, serving fresh seafood and all you can eat on the menu.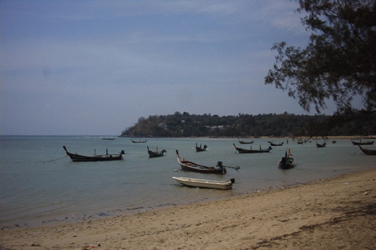 Rawai Beach has a fishermen village to the left of the beach and fishermen boat, long tailed-boats and speed boats anchored the beach area for tourists to rent wandering nearby islands such as Koh He, Koh Bon, Koh Raya and Koh Kaew. Rawai Beach is ideal for water playing since the shallow coastal waves and winds are not strong. It is housing many seafood restaurants and seaside services. Rawai Beach is away from Phuket town about 17 kilometers along Chalong Bay Intersection (Har Yaek Ao Chalong),go straight on Vises road and then reaching Rawai Beach. See map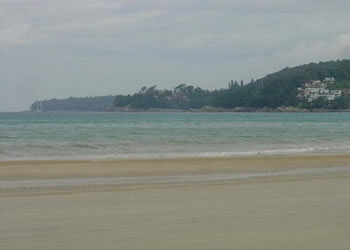 Kamala Beach is a 2-kilometer long sandy beach. It is one of calm and un-crowded beach resort. Accommodation is available both large and small bungalows, including tour companies, restaurants waiting to service tourist as well. Kamala Beach is away from Phuket town just 26 kilometres. Driving along highway #402 to Thalang district turning the traffic left on Thao Thep Kasattri Thao Sri Soonthon Monument, passing Surin Beach and Sing Cape (Laem Sing). Welcome you to Kamala Beach. See map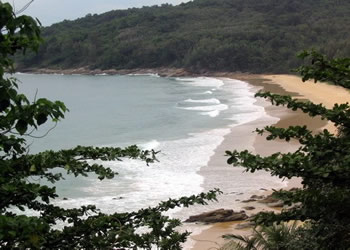 Surin & Leam Sing beaches is a perfect quiet sandy beach in a foot of the hill which pine trees can be found near the sea beach, on the right side was used to the golf course built in the reign of the King Rama 7. Surin Beach is a very steep slope sandy beach during the monsoon season is not suitable for water playing. Surin beach is away from Phuket town about 24 kilometers. Driving along the Thep Kasattri road (#402) till reaching Thao Thep Kasattri Thao Sri Soon Thon monument turn the traffic left. And then driving just 12 kilometers, welcome you to Surin Beach. See map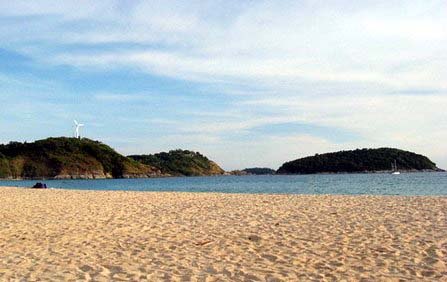 Naiharn Beach is not long but clean and white sandy beach and relatively calm also. During the monsoon season between May - October is quite strong waves and winds, not recommended for water playing. Naiharn Beach is far away from town about 18 kilometers starting from Chalong Bay Intersection, driving along the Vises road passing Rawai Beach. Go straight on the Rawai beach road, and then turn traffic to right driving about 3 kilometers (a small sign board shown to the beach). Otherwise, if driving from Phromthep Cape turning right along road around the island is the beach in search of.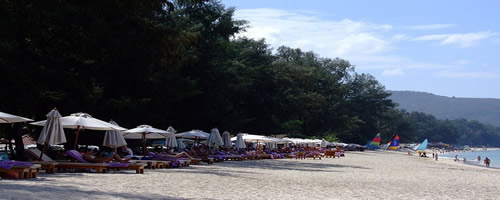 Bangtao Bay is one of the longest beaches in Phuket. Once upon a time the beach was used to mining manufacture; on the other hand, nowaday some areas have been developing a set of several luxury resorts. Additionally, other accommodations are located on southern Gulf of the beach. Visitors can play and swim in beach area outside the monsoon season. During monsoon season is rather strong storm waves. Not recommended for tourists to splash in the sea. For those who enjoy scuba diving watch coral, offshore northward of the Bay is plentiful of beautiful coral.

Please pay more attention. Visitors To Thailand is not responsible for any error of other websites or third party; moreover, the mistake of accommodation telephone numbers.