Text Size
+ Larger
|
+ Smaller
KOH CHANG, TRAT PROVINCE
52 ISLANDS, BEAUTIFUL RED GEMSTONES & RIDGEBACK DOGS
Islands nearby Koh Chang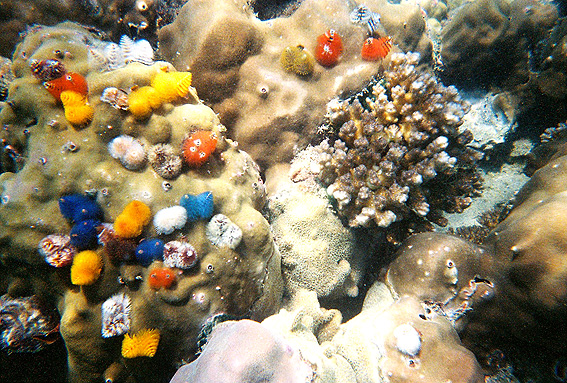 Courtesy picture of Nor Noo Kai Bae Speed Boat, Koh Chang-Trat
Koh Mak: It is the second largest island after a group of Chang Island National Park, situated between Koh Chang and Koh Kood (See Map). Most of all areas are coconut trees and the road on the island is made of laterite. There are many many beautiful beaches on this island. Houses and bungalows are available for rent. The best period for traveling is from November to late April. Mak island consists of 9 small islets, namely: itself, Rayang Nai, Rayang Nok, Pee, Kham, Kradad, Noke (Bird), Nok and Nai Islands.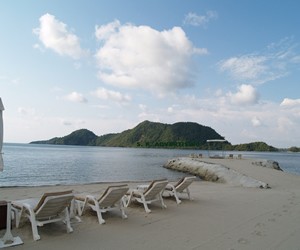 Other intersecting islands: There are some other small islands which do not have anything in particular like Koh Noke (Bird), Koh Nok and Nai, Koh Pee (Ghost), Koh Chang Noi. There is a coral area underwater from Laem Chang Noi to Koh Chang as well.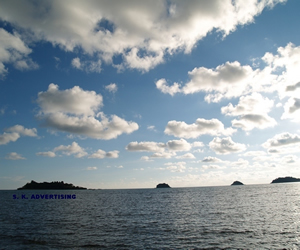 Koh Man Nok & Man Nai: These are small islands across from Kai Bae Beach. When the tide is low, visitors can see the bottom of sea floor and the beach are very shallow and full of golden seaweed.

Koh Khlum: It is a historic island during the Naval Battle time. This island is good for fishing and viewing the specially stony sea floor.
Koh Laoya: This island is also pretty small near Koh Chang. There are two islands that is Laoya Nok and Laoya Nai Islands. It takes 2 and a half hours riding from Laem Ngob to get there.
Koh Wai: Koh Wai is quite large which is near Koh Laoya. It takes 2 and a half hours as well riding from Laem Ngob. Most of the beaches are stony but the bay are beautiful lined up beaches. The wide coral lines are in the front part of the island. houses and bungalows are available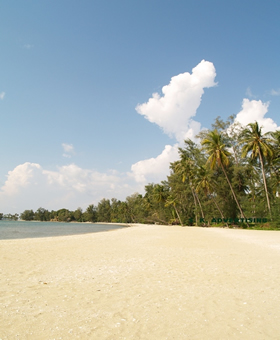 Koh Prao (Koh Sai Khao): It is in the southern part in front of Salak Phet Bay. It takes 2 hours riding from Laem Ngob pier to get there. The beach is so clean sandy beach as its name "Sai Khao" (White Sand) and shady from coconut trees.
Koh Ngam: It is in the southern part next to Koh Chang. The geographic landscape is two mountain connected to each other. At the connecting area lies a white sand mound between the two mounts. There are 2-3 small beaches, a big and a small ones, taking time to get there 2 hours from Laem Ngob pier.
Koh Kra: It is a group of small islands to the west of Koh Mak. No flat land to stay on the island. It is used to concession of the edible-nest swilftlet, silver pom fret roes and bat droppings. There are beautiful deep sea water corals as well.
Koh Rang: It is a small island 6 kilometers from Koh Mak. No flat land to get on, just a little empty room near the beach. Around the island is a habitat of many beautiful corals, easily see.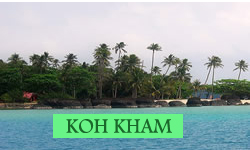 Koh Kham: It is a small island as well which near Koh Mak. It takes time about 2 hours riding to get there. The beautiful greenery nature and serenity of this island drawing travelers to visit them. Moreover, corals are very colorful and many beautiful marine life. Overnight is allowed, bungalows are available.
Koh Rayang Nai-Rayang Nok: Koh Rayang Nai has no places to overnight stay and no beaches, but Koh Rayang Nok is different one, there is beautiful beaches and some places to overnight stay. However, the same attractions either Rayang Nai or Nok are sea water around the islands are so blue and the coral reefs, marine lives are around this two islands.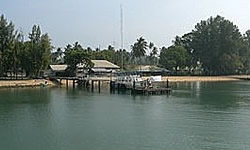 Koh Kradad: It is situated in the northeastern part of Koh Mak. In the past, there were many Paper trees growing on this island, that is got its name. This is the only island that the government issues the Landing Title Deed for people for those who own the property. During the time of King Rama V, which were the same time of French colony tried to invade Thai people of which got them property, the King bravely issued the Landing Title Deed for the whole island to Thai Kingdom. Anyway, the beaches of Kradad island are very powdery sandy beaches and the sea water is so dark blue sea. Travelers can take a walk round island. It takes time approximately 2-3 hours riding from Laem Ngob pier to get there. There are some resorts located here, it is very sympathy that now some international try to contract the government to develop several projects on there.
Please pay more attention. Visitors To Thailand is not responsible for any error of other websites or third party; moreover, the mistake of accommodation telephone numbers.