Text Size
+ Larger
|
+ Smaller
KRABI PROVINCE
Blue Sky & Crystal Clear Sea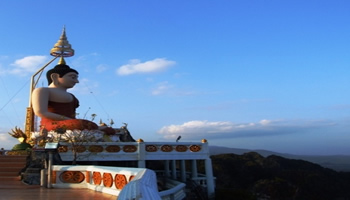 Tiger Cave Temple (Wat Tham Sua): One of the main attractions near of Krabi town. A place which Buddhist temples surrounded by a wonderful nature and a valley, where monks are celebrating their praying and living. There are also more than 1,200 stairs going steeply up to a mountain which offers an outstanding panorama.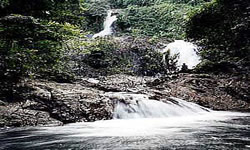 Huay To Waterfall: Worth to visit because of its wonderful surrounded tropical natures. The waterfall itself is pretty small (depends on the time of rain season) but anyway worth to see.
Hot Spring Thom: A rather tiny place but also very worth to visit. Lots of hot water is spilled out by the spring and natural pots are inviting for a bath. Getting there by car is approximately one hour from Krabi town and driving route Krabi-Trang through traffic.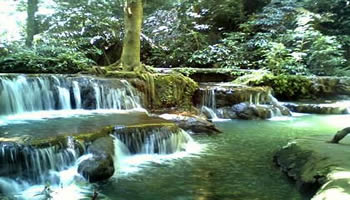 Than Bok Khoranee National Park: A wonderful National Park in Ao Luk District. Inside the park, there are many types of trees, some of them very old, as well as lots of small rivers, built from a large natural water reservoir in the rocks. There is a nice possibility for swimming and also many opportunities for having some typical Thai food.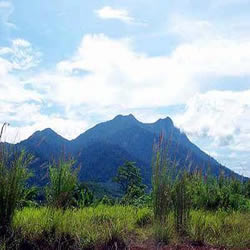 Panom Benja National Park: This National Park covers the area of more than 50 square kilometers in Ao Luk district. Following along Sri Dung Road for about 1 kilometer, you will find the junction where you turn going to Huay To Waterfall. That is where the office is. Go forward next to the office just 20 kilometers you will see many towering mountains covers with foggy clouds. The forest is so green and fertile. There are brooks, waterfalls, caves and many kinds of wild animals living there.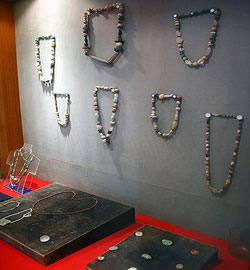 The Temple of Khlong Thom Museum: It is located only one kilometer away from the District Office. At the museum, you will see the articles from many different ages likewise the Bronze Age, the Stone Age, Metal Coins, the broken pieces of earthen vessels, Necklaces which are made from clay, Beads which were more than 5,000 years old.
Lanta Islands: These small islands are in Lanta district including Lanta Yai and Lanta Noi, the Tabeng Leng, Koh Har, Koh Rok and Koh Ngai are the destinations that travelers who come to Lanta Island preferred to experience. Click here to view more »»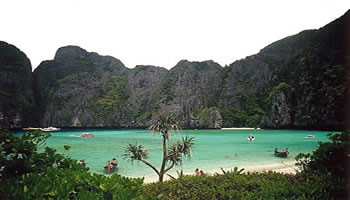 Phi Phi Islands: Phi Phi Don (the main island) and Phi Phi Le are located approximately 40 kilometers away from Krabi. The islets groups consist of 2 main islands, i.e. The Phi Phi Le and The Phi Phi Don (See Map), they are locating far away each other just 2 kilometers.
The view point of the Phi Phi Le is at the "Pi-Leh", which is gulf let conveying into a valley; wherein you will see the Viking Cave, the prehistoric painting where local people use to empty the many bird's nest, and also the Maya Bay on Phi Phi Le, where the shots for the film "The Beach", starring Leonardo di Caprio, were taken in early 1999 and the coral bases. And as to that of " Phi Phi Don", the view point would be at the Tonsai curve, and the Leam thong gulf let, of which one must have been familiarized for a very strong acquaintance, as they are seen invariably on magazines, and tourist columns, where you can see the powder sandy beaches, both of them curving in almost to a touch at one of their ends, with obstruction of only a patch of sand bars and coconut trees lines.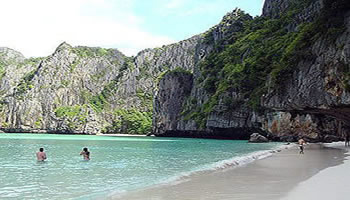 Please pay more attention. Visitors To Thailand is not responsible for any error of other websites or third party; moreover, the mistake of accommodation telephone numbers.