Text Size
+ Larger
|
+ Smaller
KRABI PROVINCE
Blue Sky & Crystal Clear Sea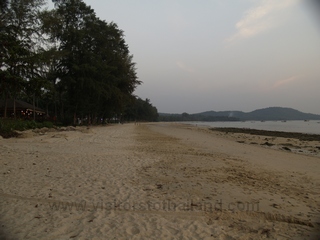 Khlong Muang Beach is a beautiful beach located northward of Ao Nang Beach. Traveling to this beach is very comfortably and safety. Along 2-way concrete road leading to the beach is plenty of many dark green tropical rain forest. Khlong muang beach is similar to a waning moon beach stretching from one side till endless. It is very as same as Patong Beach of Phuket or Chaweng Beach of Koh Samui, Surat Thani. Khlong muang beach stretches from Hang Nak Cape which is a place of Royal Palace till endless at a tiny island approximately 1000 meters long. Khlong muang beach is a white sandy beach . The charming of this beach is a romantic sea view when travelers look into the sea for view a dozen of island which flood on the horizontal line while a sun is setting. That's awesome. Ruean Thai Restaurant is a place which suitable for impressing the romantic scene and enjoyble many dishes on Ruean Thai Restaurant's menu either Thai or European food and also Seafood. Come to touch the real romantic atmosphere.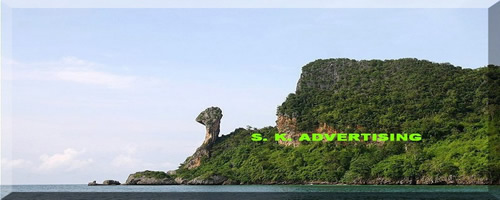 Koh Khai or Chicken Island, maybe written as Koh Gai and Koh Kai. Koh Khai has got its name from a strange appearance on the top of the island which is similar to a neck and head of a chicken or an ostrich. The island has two different characters that is the one side consists of lush tropical cliffs; on the other hand, another side has a powdery sandy beach stretching along the rest of untouched blue sea water. When the sea level high, the above mentioned beach is fade away. However, Koh Khai can visit all year round though during monsoon season. Moreover, Koh Khai has a favorite sea water activity as well such as snorkeling exploring abundant marine life in warm water and glassy clear sea water. There is no accommodation on this island.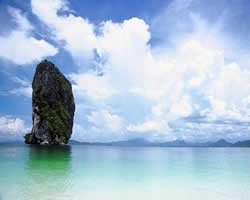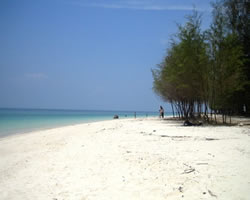 Mu Koh Poda or a group of Poda Islands is situated on the west of Ao Nang Beach (See Map) [日本語の地図を見ましょう]. A group of Poda Islands consists of Koh Poda, Koh Kai, Koh Mo and Koh Thap, which are very popular destination for travelers either Thais or Farangs (Foreigners). The beautiful white sandy beach on the north of Koh Poda is fascinatingly with its powdery fine sand beach and emerald blue sea water. Undoubtedly, it is the one of the paradise vacation who makes a decision to holiday at Krabi, Ao Nang, which considers first to experience the group of Poda Islands beaches at once.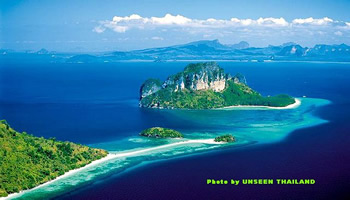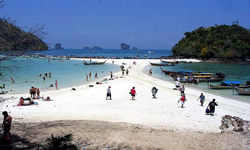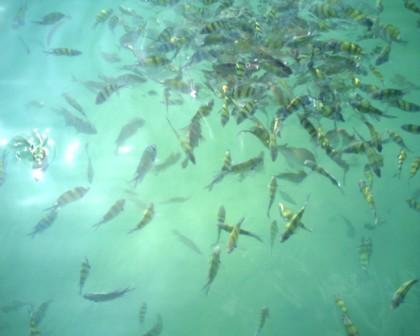 Separated Sea or in other words Sand Sea it is a beach which will appear when the tide is low. Sand Sea has become from three sand bar of three islands , namely Koh Khai (Khai Island), Koh Mo (Mo Island) and Koh Tab (Tab Island). (See Map) [日本語の地図を見ましょう] These three islands are closely located which have ridge one another; however, when the sea water level high, the sand bar is fade away as soon. Sand Sea will appear when the sea water low, the three sand bars will separate sea water into three beaches which have got name. Sand Sea is dedicated to take a walk or sun bathing and all sea activities case the beach is very fine and so tender, importantly it is very clean since when the sea water is high dead leaves are wiped out by itself. The best time to visit Sand Sea is when the sea water is extremely low, especially in the day before and after lunar moon about 5 days, the best month to experience is November till early May.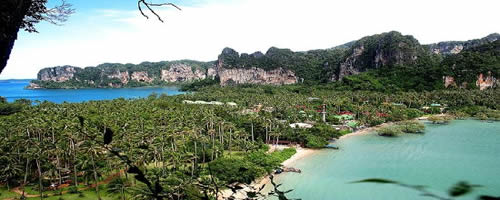 Railay Bay or Railay Beach is located on Muang district, Krabi which is preserved by Nopparat Thara and Phi Phi Islands National Park. Renowned as the second Phi Phi Islands of Krabi province. Railay Beach is a beautiful beach with towering cliffs that are the source of the most famous cliff-climbing sports, which both Thai and foreigner tourists interest and want to be this challenging experience.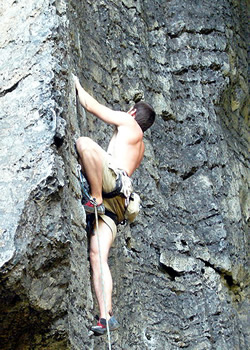 "Railay Beach" consists of sandy beach that is divided into 2 sides and has an accommodation alike, which tariff rates offer economy till five-star averages.(See Railay Map) 「日本語の地図を見ましょう。」As mentioned above that Railay has two sides, the West Beach and East Beach is a confronting curved beach having a small path to each other.
Furthermore, another beach will refer to beauty that is deferent from the West and East Railay Bays that is the Ao Tonsai (Banyan Tree Bay). The Bay, which is known for cliff-climbing sport as well, is dedicated to brave challenger which ideal for the expertise and experience through years for climbing it, Tonsai bay cliff. Because of the cliff is rather steep and more difficult for the side of Railay.
Koh Rok Koh Rok or Rok Island is a small island located on Krabi province's border (See Map) and not far away from Koh Lanta. Don't mention some resorts or bungalow on the island cause this island has no license for businessmen to build accommodations.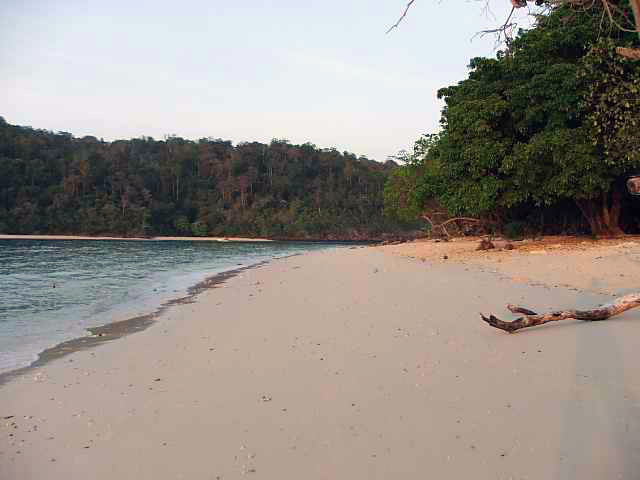 It is available only Natural Marine Park Official House and camping ground.Koh Rok Nai(inside) and Rok Nok(outside) set on closely, large number of travelers is always traveling in one-day programme. Sightseeing and diving on popular spots and then resting to have lunch on Koh Rok Nok are itinerary agencies set on. Actually, Koh Rok Nok is Natural Marine Park Office. Around Koh Rok, sea water is very glassy and clear untill can watch through under water world.
Please pay more attention. Visitors To Thailand is not responsible for any error of other websites or third party; moreover, the mistake of accommodation telephone numbers.